In our home we're big dessert fans. We especially love cakes. Due to my son's egg allergy he wasn't able to eat many cakes though. Over the years I have taken lots of our favorite cake recipes and modified them to make them recipes without eggs. This recipe for pumpkin bundt cake without eggs is one of my favorites and it's a perfect fall dessert.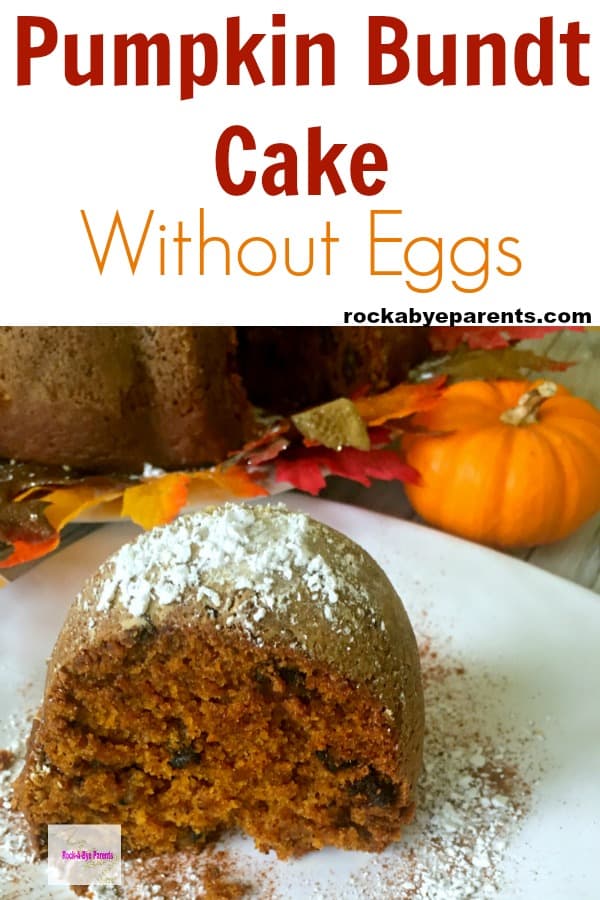 Recipe for Pumpkin Bundt Cake Without Eggs
Disclosure: This post contains affiliate links. As an Amazon Associate I earn from qualifying purchases.
I just love this recipe for pumpkin bundt cake without eggs. The recipe was given to my mother years ago by a friend and I modified it to be egg-free.
What makes this pumpkin bundt cake so great is that it's really moist and has a lot of pumpkin flavor. I love cream cheese frosting on fall cakes like my harvest cake, but this one does not need it. In fact the frosting would only take away from the fabulous flavor of the cake.
One of the really great things about this recipe is that the cake continues to taste great for days. It's so moist that, when wrapped up, it can go for a week or more without drying out. In fact, I'd go as far as to say that it almost tastes better a day or two after it's made. So no worries if you have leftovers with this cake, because you can continue to enjoy eating it. Although you aren't likely to have any slices leftover!
Ingredients needed for Egg-Free Pumpkin Bundt Cake
How to Make an Eggless Pumpkin Bundt Cake
This pumpkin cake is fairly easy to make. It does take a decent amount of time though. Partly because it needs a long baking amount, but it also has so many ingredients that it just takes a long time to measure everything out and mix it together. It's totally worth the time you put in though.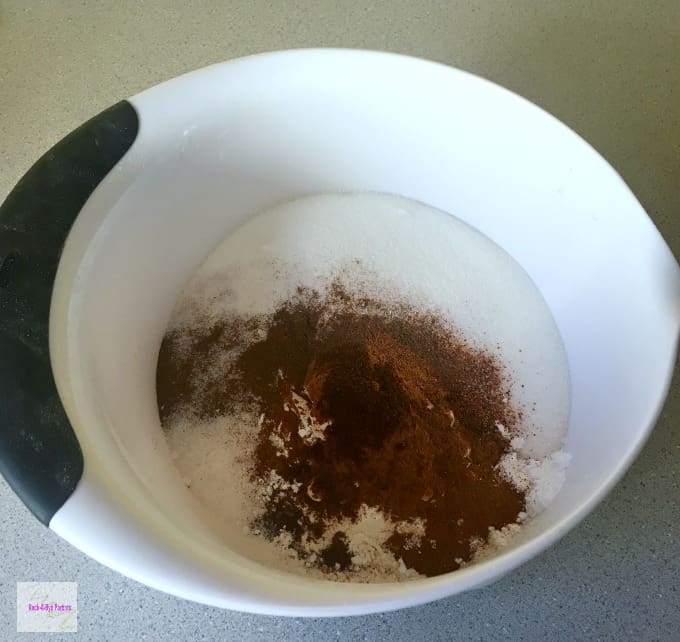 To start you need to combine the flour, sugar, baking powder, baking soda, cinnamon, nutmeg, salt, allspice, and cloves in a bowl. Then mix everything together.
Next add in the applesauce, pumpkin, and oil. For this part use an electric mixer set to a medium speed. Continue to mix with the electric mixer until the ingredients are well blended.
To finish add in the walnuts and chocolate chips and stir them in well. You can adjust the amount of walnuts to your liking. The original recipe called for a full cup. I felt that was a bit much myself so I cut the amount back to 3/4 of a cup. If your family doesn't like nuts then feel free to skip the ingredient completely. It gives a bit of crunch to the cake, but the cake is amazing with or without the nuts.
Once you have everything mixed together it's time to bake the egg-free pumpkin bundt cake. Pour the batter into a well greased bundt pan. Then bake the cake at 350 for 1 hour and 10 minutes or until a tooth pick interested into the cake comes out clean.
Once the cake is done remove it from the oven and let it cool down for 5 minutes or so. Then turn it over and place on a wire rack to finish cooling completely.
Just a word of warning. Be careful when you turn the bundt pan over. This cake is very heavy, and if it's still too warm it can crack a bit when it comes out of the pan due to the weight. This is why you won't want to remove it from the bundt pan too early.
Once the cake has cooled and you are ready to serve it you can give it a finished look by sprinkling powdered sugar on top. A
sugar sifter
makes this very easy, but you can also just rub it between your fingers as you move your hand around.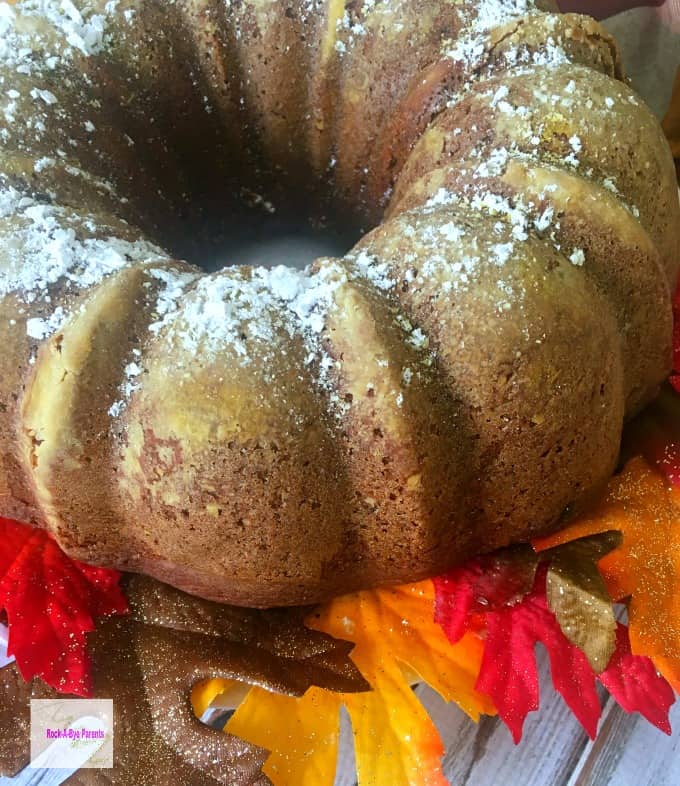 Yield: 16 Slices
Pumpkin Bundt Cake Without Eggs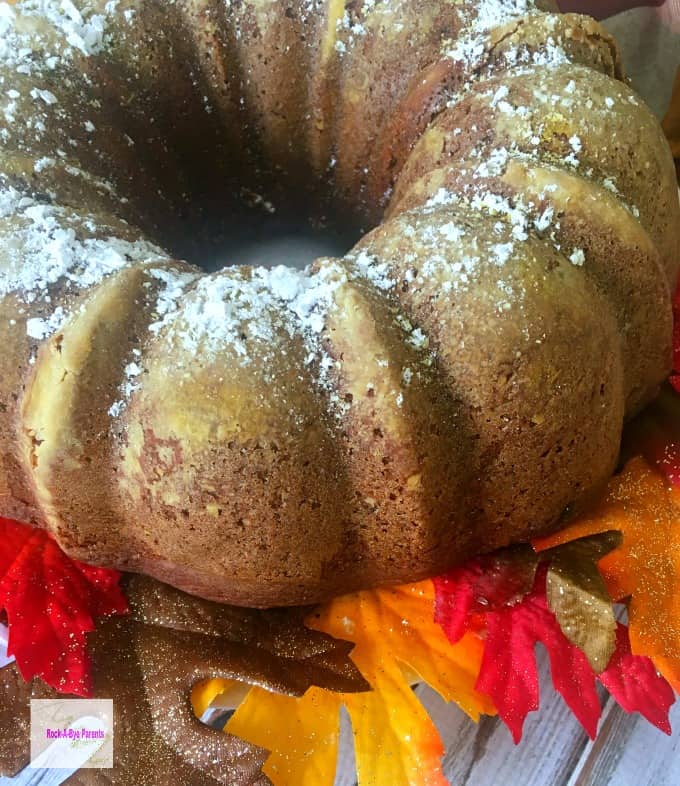 This recipe for pumpkin bundt cake without eggs is a wonderful fall dessert. This very moist cake is packed full of pumpkin flavor and is sure to please.

Prep Time 20 minutes

Cook Time 1 hour 10 minutes

Total Time 1 hour 30 minutes
Ingredients
3 Cups Flour
2 Cups Sugar
2 Teaspoons Baking Powder
2 Teaspoons Ground Cinnamon
1/2 Teaspoon Ground Nutmeg
1/2 Teaspoon Salt
1/4 Teaspoon Ground Allspice
1/4 Teaspoon Ground Cloves
2 Cups Applesauce Cinnamon
1 Can Pumpkin Puree 15oz
1 Cup Oil
3/4 Cup Walnuts Chopped
1 Cup Chocolate Chips
Powdered Sugar Optional
Instructions
Combine flour, sugar, baking powder, baking soda, cinnamon, nutmeg, salt, allspice, and cloves in a bowl and mix well.
Add applesauce, pumpkin, and oil and and mix together with an electric mixer set on medium speed until well blended.
Stir in walnuts and chocolate chips.
Pour batter into a well greased bundt pan. Bake at 350 for 1 hour and 10 minutes or until a inserted tooth pick comes out clean.
Allow cake to cool for at least 5 minutes and then turn it over on a wire rack and allow it to cool completely.
Before serving dust with powdered sugar if desired.
Nutrition Information:
Yield:
16
Serving Size:
1 Slice
Amount Per Serving: Calories: 456 Total Fat: 21g Saturated Fat: 3g Trans Fat: 0g Unsaturated Fat: 17g Cholesterol: 0mg Sodium: 131mg Carbohydrates: 66g Fiber: 3g Sugar: 44g Protein: 4g

I hope your family and friends and enjoy this pumpkin bundt cake without eggs. It is certainly a favorite fall dessert recipe in our family, and it is still a great one to serve through the holiday season. In fact I'm about to bake it again as a holiday gift for my neighbors. Enjoy!
More Recipes without Eggs