When it comes to fall desserts the pumpkin ones are usually my favorite. I just love anything that has a pumpkin flavor. I don't always have time to make a full pumpkin dessert though. That is why I absolutely love this pumpkin pie popcorn! It's a great way to quickly and easily enjoy a pumpkin dessert.
Pumpkin Pie Popcorn
Disclosure: This post contains affiliate links. As an Amazon Associate I earn from qualifying purchases.
What is it about the flavor of pumpkin that is so good? Pumpkin pie has to be one of my favorite desserts. That is why I love this pumpkin pie popcorn recipe! What I also love about this fall dessert is that it is easy to whip up at any time.
Plus it's a great dessert to take to a party. People love party food that is easy to just grab and eat the way you can with a handful of popcorn. That's not so easy with a piece of pie. Plus the popcorn can be stretched a lot farther.
This is also a great recipe to have on hand in the fall when last minute events pop up. This is so easy and fast to make, and it's easy to have these ingredients on hand for whenever you need them.
What You Need to Make Pumpkin Pie Popcorn
How to Make Pumpkin Pie Popcorn
This really is such an easy recipe to make. In fact, it's so easy that it's a really good recipe to let kids help with.
The first thing you want to do is combine the sugar and all of the spices in a bowl. Mix them well and then set the bowl to the side.
Now it's time to pop the popcorn. If you really wanted to use a microwave bag of popcorn you probably could get away with that if you use one that is for completely plain popcorn. In my opinion though this recipe is best made with popcorn you pop yourself.
The bag or container of popcorn kernels should have instructions on how to pop it. Basically though you want to cover the bottom of a sauce pan with cooking oil (usually 2-3 tablespoons will do it). Then add 1/2 a cup of uncooked popcorn to the oil. Then you'll heat it on the stove.
Set the stove to a medium heat level and cover the sauce pan with a lid. Make sure to leave the lid slightly cracked to let the steam out. While the pan is on the stove you'll want to move it around a little over the burner. You know the popcorn is done cooking when the popping has slowed down to 2 or 3 seconds apart.
Once your popcorn is done pour it into a large bowl. You want a bowl big enough that the popcorn isn't overflowing it. Otherwise you're going to have a big mess.
Now take your spray butter and squirt some on the popcorn. Then sprinkle some of the pumpkin pie spice mixture that you made earlier onto the popcorn and use a large spoon to mix it up. Continue to spray the butter and mix in more of the spice mixture until there is no spic mixture left.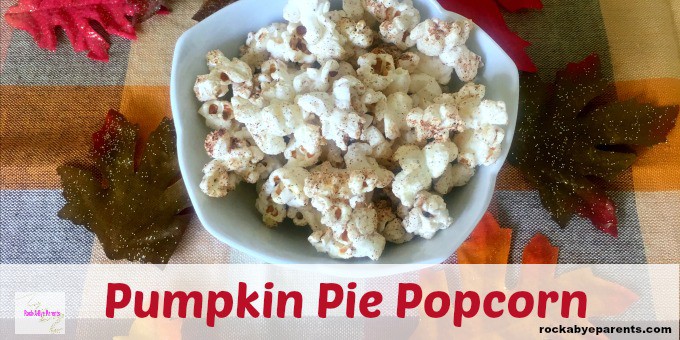 That's all there is to it! Now you have a yummy pumpkin flavored dessert to serve. I also like to keep some pumpkin pie popcorn in a container on the counter so I can add a little pumpkin to my day any time I crave it.
Pumpkin Pie Popcorn
Easily and quickly add some pumpkin flavor to the end of your day with this pumpkin pie popcorn.

Ingredients
3

Tablespoons

Cooking Oil

1/2

Cup

Popcorn

Uncooked

1

Tablespoon

Sugar

1/2

Teaspoon

Ground Cinnamon

1/4

Teaspoon

Ground Ginger

1/8

Teaspoon

Ground Allspice

1/8

Teaspoon

Ground Cloves

1/8

Teaspoon

Ground Nutmeg

Spray Butter
Instructions
Combine sugar and spices in a bowl and mix together. Then set aside.


Add 2-3 Tablespoons of cooking oil to a sauce pan and then add the uncooked popcorn. Cover the sauce pan with a lid leaving it slightly cracked to let out steam. Set stove to medium and move the sauce pan around periodically. Cook popcorn until the popping slows down to every 2 or 3 seconds.


Pour popped popcorn into a large bowl.


Spray the popcorn with some spray butter and sprinkle on some of the pumpkin pie spice mixture. Then mix the popcorn up with a large spoon. Continue to spray the popcorn and sprinkle on spice mixture until the spice mixture is all gone.

More Fall Desserts